eClass Integration
Instructors can add a Library Resources Block to their eClass modules. The default Library Block contains a search box and links to: book study space , our ask us services and the library hours page.
Customizing saves time
Library Blocks can be customized to add links to additional resources (e.g. links to subject resource guides or links to specific databases). Students can then access resources relevant to a particular course directly within eClass.
We're here to help
Instructors can add/customized blocks themselves or request the assistance of their subject librarian to add the block. Instructions for both these options are available below:
Instructor Adds/Customizes Block
Subject Librarian Adds/Customizes Block
Default Block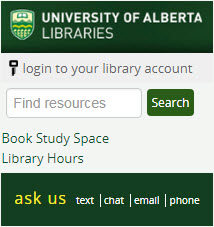 Customized Block