3D printing is currently unavailable until Winter Term 2022.  
3D Printing
Who is eligible to print?
This service is free to University of Alberta students, faculty, and staff wanting to print a 3D object for educational purposes. This may include models for an assignment, research instruments, prototypes, creative designs, or others.
Questions? Email make.library@ualberta.ca
---
EQUIPMENT
Prusa MK2S and MK3
At the SciTech Business Library, we have four Prusa MK3 printers and two Prusa MK2S printers. These are our primary printers. For full specifications of the machines click the links below:
MK2S: https://www.prusa3d.com/new-user-mk2s/
MK3: https://www.prusa3d.com/new-user-mk3/
The DSC Makerspace allows access to the following printers (please visit their site for information about using these printers):
Ultimaker 2 Extended+: https://ultimaker.com/3d-printers/ultimaker-2-plus
Ultimaker 3 Extended: https://ultimaker.com/3d-printers/ultimaker-3
FormLabs Form 3 (not available for unmediated service): https://formlabs.com/3d-printers/form-3/
Material
PLA
At the Cameron SciTech Business Library, we use PLA filament. For a list of currently available colours please see here: https://web.library.ualberta.ca/services/3dprintinginfo/colors.php
We have a few rolls of a softer, more flexible PLA, although printing with it brings a number of challenges. Please reach out to us at makelibrary@ualberta.ca if you require soft PLA.
Software
Slicing Software
To prepare jobs for printing, we use either PrusaSlicer or Ultimaker Cura. To learn more and try them out, please visit their websites:
https://www.prusa3d.com/prusaslicer/
https://ultimaker.com/software/ultimaker-cura
Other Slicing Software
Slic3r is an open source software that converts STL files into Gcode. It is also useful for cutting and saving models into multiple pieces
---
PREPARE YOUR MODEL
Here are some things that you will want to consider before submitting your design to the SciTech Library's 3D printing service. For unmediated alternatives (wherein users do the printing themselves), please consult the DSC or TheShack.
Overhangs
Our 3D printers work by laying-down streams of filament one later at a time. If your design includes any parts that hang over 45 degrees, it will require our staff to consider the following solutions:
print the model using auto-generated supporting material
reorient the model to facilitate layer-by-layer printing
Modify the model (eg: cut it into 2 pieces using Slic3r)
Send the model back for redesigning
For more information about overhangs and supports, please view 3D Printing Overhang: How to 3D Print Overhangs.
Infill
The default infill amount for the printers at SciTech Business library is 5%. For some basic information about 3D printing infill, please view 3D Printing Infill: The Basics – Simply Explained. Requests for higher infill will be considered on a case-by-case basis.
File Format
All submissions need to be stereolithography files, with an STL extension (.stl).
---
PRINTING POLICIES
The library's 3D printers may only be used for lawful academic purposes. No one is permitted to create material that is:

For commercial purposes
Prohibited by local, provincial, or federal law.
Unsafe, harmful, dangerous, or poses an immediate threat to the well-being of others.
In violation of another's intellectual property rights. For example, you cannot reproduce material subject to copyright, patent, or trademark protection.

The library reserves the right to refuse any 3D print request.
The library cannot guarantee model quality or stability, nor confidentiality of designs. Responsibility for removing rafts and supports is up to the user.
Items must be picked up by the individual who submitted them or their designee, using valid ID (ONEcard preferred). Items not picked up within 30 days of being printed become the property of the Library.
The 3D printing queue is prioritized based on factors such as academic priority, class due dates, reprints, and other issues as they arise. We reserve the right to alter the queue order based on these factors or others.
For more guidance, we recommend reviewing the University of Alberta's Opening Up Copyright instructional module: Makerspaces and Copyright

---
MAKERSPACES ON CAMPUS
Digital Scholarship Centre (DSC)
The Shack (Faculty of Science)
---
3D PRINTING STATS
The Cameron Library at the University of Alberta Library has been running a free 3D printing program since 2016. In that time, we have successfully printed approximately 4679 jobs. If you have any questions about this program or the statistics shown here, contact us at make.library@ualberta.ca.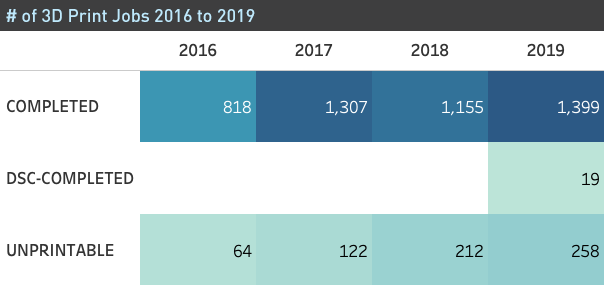 ---
---
---
2019 3D Printing Statistics
---
---