Augustana Library
---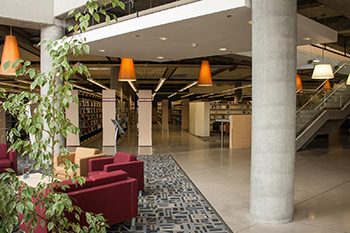 The Augustana Campus Library supports the research needs of approximately 1000 undergraduate liberal arts and sciences students and 75 teaching faculty. Augustana's library boasts large windows and wonderful ravine views. It is a wireless hotspot and provides access to computer workstations, a variety of student work spaces and group rooms, as well as the new Learning Commons, which provides many student support services including the Writing Centre.
The Augustana library hosts many public exhibits as well as the Augustana Human Library each academic term. Information literacy is the prime focus of the Augustana Library which ensures that Augustana graduates are skilled in critical thinking as it relates to information acquisition, assessment and use. The focus on information literacy is fully integrated into Augustana's curriculum and skills development initiatives related to graduates being researchers, thinkers and communicators.
Watch our Ask a Librarian videos.
You can also find subject specific information in our subject guides:
Augustana Subject Guides